The carbon-based ink (
墨)
is made up of soot which is either obtained from smoked wood or oil (
1
)(
2
). Traditonally, the soot is mixed with oil and other additives, made into a dough, dried, and then cut into inksticks. Liquid ink is obtained by rubbing the inkstick with water on an inkstone as illustrated below: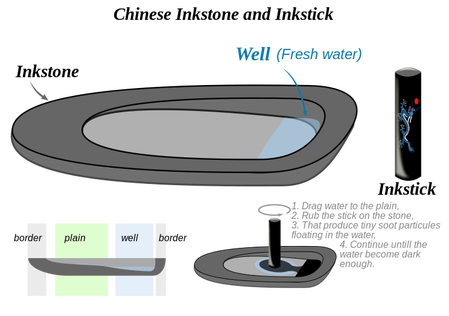 "E
ast Asian calligraphy scheme 01-en" by Yug - Own work. Licensed under CC BY-SA 3.0 via Commons - https://commons.wikimedia.org/wiki/File:East_Asian_calligraphy_scheme_01-en.svg#/media/File:East_Asian_calligraphy_scheme_01-en.svg
However, it is now quite common to use prepared liquid ink (
墨汁)
straight from a bottle rather than preparing from an inkstick and inkstone. These pre-made liquid inks often offer comparable quality to ones made fresh from inksticks, and so are very popular among beginning learners.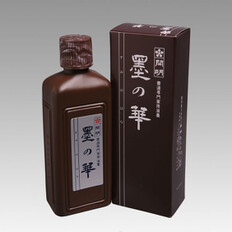 A bottle of prepared calligraphic (shodo) ink manufactured by the Japanese ink maker Kaimei (3)
© 2013-2018 www.vincentpoon.com all rights reserved